What's On at Daniel Hall
YogaMums
YogaMums offers hatha yoga classes suitable for Mums of any age; Pre Natal yoga; Mums and Bubs and Kids Yoga.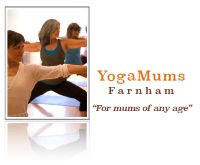 Current classes:
Thursdays 10-11.30am Yoga For Mums:
(drop-in) £10 casual,
£50 for 6 class pass.
Fridays 10.15-11.30am "Floor, Core & Yoga"
6 week course £50.
Sundays 5.00-6.30pm Pre-natal yoga course. If you are pregnant or know someone who is, do get in touch.
I specialise in pre and post natal yoga, especially helping women regain core strength and pelvic floor conditioning and undo bad posture habits.
Classes are a mix of flowing yoga sequences, balances, stretches and postures adapted accordingly for women. Breath work and deep relaxation are also an essential component. Classes are fun and casual - you don't need to be bendy to come!
Linda Stephens
500hr Registered Yoga Teacher
Fully Insured
See:
W: www.yogamums.net
FB: www.facebook.com/yogamumsfarnham
Ph: 07565 916415
Post Natal
All Post Natal

classes aimed at mums with a 6 week plus baby are held on Tuesday mornings from 10.30am – 12pm. Post Natal Vagoga is a progressive programme and all babies are welcome until they are mobile! www.vagoga.co.uk
Get in touch for more info - 07769 718405 or email
Kumon Study Centre
Kumon Study Centre are offering maths and English study programmes. Go to www.kumon.co.uk for details.
MACULAR SOCIETY - FARNHAM SUPPORT GROUP
Meets on the first Thursday of every month from 1.30pm to 3.30pm.
The Support Group is open to anyone with loss of central vision, as well as their carers.
In addition to meeting others who have similar problems to share experiences of treatments and help available, there are speakers on subjects of interest to those of us with impaired vision.
There will, of course, be tea/coffee and biscuits and a raffle.
The Group can also provide contact with sources of help with specific problems covering anything from making tea (without spilling) to working with computers.
More information
Call Pat on 01420 476400, or visit the Macular Society website. Pat takes all our first contacts and provides initial information on Farnham and other surrounding Support Groups if the enquirer lives too far from Farnham. Pat can also advise those who are still working that there are special Groups for them - our nearest is Farnborough.
Farnham Humanists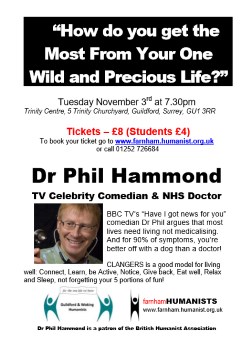 Farnham Humanists talks at Daniel Hall. Everyone is welcome. DIY tea and coffee, drinks available from the Hop Blossom Pub close by. Admission donation £2 to cover costs.
Talks are Sunday evenings from 7-10pm; next meeting is 13 December.
See the Farnham Humanists website for more information.